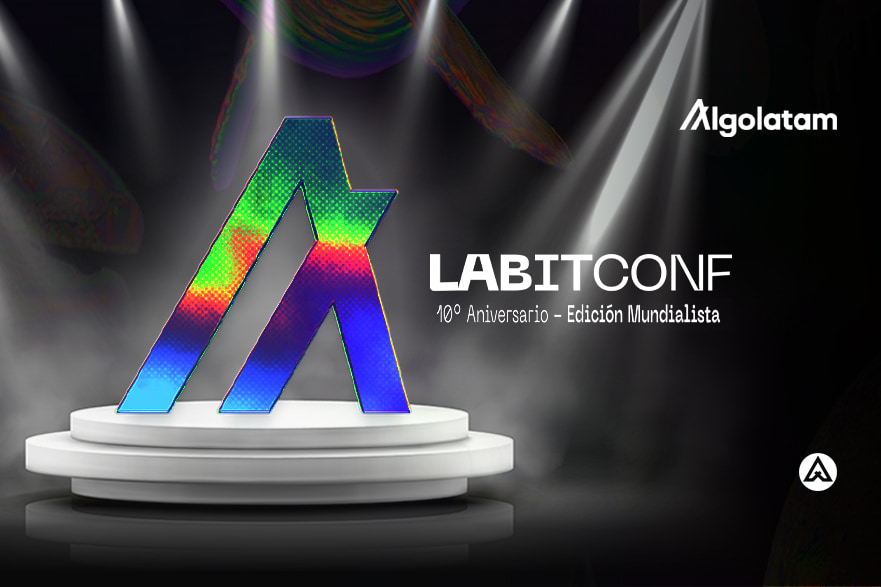 Algorand was present together with several projects from its ecosystem in this new edition of LABITCONF 2022. The event took place in Buenos Aires, Argentina, on November 11 and 12, and we were covering it so that you can find out all the news. In this article we tell you all the details.
LABITCONF 2022 in Buenos Aires
This year LABITCONF returned to Buenos Aires to celebrate its 10th anniversary, in the same soil where it was born. This is the most important event in the crypto world in Latin America, where the top personalities in the blockchain sector speak about key issues for the future of the industry. On this occasion, we were able to enjoy the World Cup edition, given the proximity to the 2022 FIFA World Cup.
The attendees had the opportunity to participate in various talks related to the Web3 universe, as well as the possibility of visiting the stands of relevant projects within the cryptographic space. At this one-of-a-kind event, people were able to interact directly with developers of disruptive products.
Algorand was present as a blockchain network through a dedicated stand, where users had the possibility of accessing to learn about all the news, in the same way, various projects from the ecosystem and key personalities from the Algorand Foundation were present. From the «Algorand in Spanish» community we were also present in all sectors, providing full coverage of the event and accompanying attendees to clear up their doubts.
The Algorand ecosystem was present
The Algorand ecosystem has various projects, covering different sectors of the blockchain industry. In this event, we had the opportunity to enjoy several developments that were participating in the new edition of LABITCONF 2022 to bring you the latest news.
Among the incredible projects that we were able to enjoy, we had the presence of:
Folks Finance: Leading DeFi protocol within the Algorand ecosystem. This protocol allows users to lend and borrow on the Algorand blockchain network. In turn, it has a large number of options to receive rewards, allowing users to participate in the «community governance of Algorand» through its application.

The platform presents unique features for decentralized finance, which allow users to participate in "Algorand Governance" and obtain performance without giving up their liquidity thanks to the gALGO token, minted in a 1:1 ratio with the committed ALGOs.

More information here.
Wayru: designs networks that provide internet to a specific geographic radius and at a fraction of the cost compared to traditional models.

It then tokenizes the network and divides it into "cells" known as AirBlocks. These provide the internet to a specific geographical area and number of customers.

Thanks to the smart contracts of blockchain technology, anyone can rent an AirBlock and share the income obtained from consumer subscriptions for a period of 5 years.

More information here.
Trantorian: Trantorian is a 3D space exploration, battle, economy and civilization development NFT-based game on blockchain, set in a persistent and ever-growing metaverse.

Trantorian unites the best of traditional gaming with the added benefits of blockchain. Such as asset ownership, decentralization and governance.

The gameplay brings a mix of genres like RPG with 4X games, making Trantorian a one of a kind game.

Game assets such as spaceships, spaceship blueprints, land rights, and crew members are stored via NFT on the blockchain, owned by you.

More information here.
AgroToken: This Argentine startup manages to take advantage of the performance of Algorand to convert grains, such as soybeans or corn, into digital assets. These tokens are backed tradable digital assets, and their value is tied to the price of soybeans (SOYA), corn (CORA) and wheat (WHEA). This opens up a universe of possibilities for usability.

This simple model allows tokenization to be carried out 100% online, to later receive the «Agrotokens» in a wallet and be able to start using them from a cell phone or computer. Within their uses, these tokens allow them to be exchanged for seeds, vehicles, machinery, fuel, services and much more. Another of the benefits that these assets present is that they can be used as collateral to request loans.

More information here.
Rands Labs: Since 2019, Rands Labs has centralized its projects on the Algorand blockchain with the aim of building infrastructure for the network, drawing on the benefits that the network provides for this type of project.

Among its developments is «My Algo» wallet, which provides an interface to be able to interact with Algorand in a safe and reliable way, presenting a totally professional development from a technical point of view. One of the innovations that stands out the most regarding the wallet is the development of the MyAlgo Connect SDK, which allows D-Apps developers to easily connect their projects.

Rands Labs has also developed "Algo Explorer", a block explorer that allows us to easily search Algorand for all information regarding transactions, addresses, smart contracts and assets on the blockchain.

Another important fact about AlgoExplorer is that it allows us to search for historical transaction data, information and statistics on all types of activity on the Algorand network.

More information here.
Koibanx: Founded in 2015, Koibanx is the leading and pioneering company in providing blockchain-based financial platforms and products for the Latin American financial system. It leads the technological revolution of the industry in the region, providing payment services and asset tokenization to the banking and financial sector in different countries, such as Argentina, Colombia, Mexico, El Salvador and Uruguay.

One of his most important projects carried out on the Algorand blockchain is the Chivo virtual wallet, used by the government of El Salvador.

In addition, in Colombia they worked with Mi Vacuna, an application that provides exact statistics on the penetration rate of the vaccination program against COVID-19. «This application connects with the Koibanx platform, where a blockchain identity is created for each citizen, with the records or information of each care and/or interaction with the Colombian health system.» Currently My Vaccine has more than 9 million users.

The Nigerian government signed an exclusive 3-year IPR (Intellectual Property Right) agreement with Developing Africa Group, to launch a national wallet that will enable the international trade of all forms of Intellectual Property that are created and registered within the country, both locally and internationally. In this context, DPI's exclusivity agreement consists of the government granting Developing Africa Group (a regional software development company) the construction of the country's official platform.

Developing Africa Group has chosen Koibanx with the approval of the Government, as the tokenization and payments engine to be used in the country and Algorand Blockchain as the protocol on which it will run.

More information here.
These are some of the outstanding projects of the Algorand ecosystem that were present at LABITCONF 2022, where attendees were able to enjoy many more exhibitors.
We continue to share the Algorand fever together!
Events schedule that took place at LABITCONF 2022
Friday November 11, 2022 «Day 1»:
The themes covered: social and political change, state innovation and local and global regulatory impact, continuing with reflections on sport, ending with the delivery of various awards such as Hackathon, LABITCONF Tournament Cup and B – Art Award.
The most prominent speakers of this day were: Michael Saylor (MicroStrategy), Martin Migoya (CEO Globant), Samson Mow (CEO Jan3 and creator of Bitcoin Bonds of El Salvador), Jimmy Song (Bitcoin Specialist), Brittany Keizer (Former Director of Cambridge Analytica Business Development), Evan Luptak (Recognized Investor).
OPENING: 7:30 AM – Costa Salguero. See Map
The entrance doors were enabled from 7.30 AM, and the main stage began its activities at 9.00 AM.
CLOSING: 7:00 PM – Costa Salguero
Saturday November 12, 2022 «Day 2»:
It began with the interview with Vitalik Buterin and continued with technical talks such as that of Elizabeth Stark and various BTC and Lightning core devs. She advanced towards adoption issues in the Latin American and Argentine context with talks from the CEOS of the main exchanges.
Towards the end there were talks about WEB3, one of them with the CEO of ComicCon. Ending the day with social themes, auctions, raffles and a "Bresh Party" to celebrate the closing of the 10th edition of LABITCONF, which was incredible.
OPENING: 7:30 AM – Costa Salguero See Map
The entrance doors were enabled from 7.30 AM, and the main stage began its activities at 9.00 AM. As a closing, the "Bresh Party" was held.
CLOSING: 8:00 PM – Bresh Party
For more information: here.
Final Words
LABITCONF is the most important crypto event in Latin America, and we had the chance to celebrate its 10th anniversary in Argentina with this 2022 edition. Algorand was present along with several projects from its ecosystem, so it was an opportunity to get to know each other. From «Algorand in Spanish» we were present to cover the entire event and help with everything the participants needed. Thank you all, it was a magnificent event!
Aviso de responsabilidad:
Este artículo no contiene consejos financieros, ni recomendaciones de inversión de ningún tipo. La información brindada se ofrece sólo con fines educativos y didácticos en cuanto a tecnología Web3 y análisis sobre sus casos de uso.
Las inversiones con criptomonedas, NFTs, tokens u otros activos digitales conllevan riesgos y no se encuentran regulados, por lo que los lectores deben realizar su propia investigación antes de tomar cualquier tipo de decisión bajo su entera responsabilidad, así como adaptarse y observar las diferentes regulaciones legales según su país de residencia.